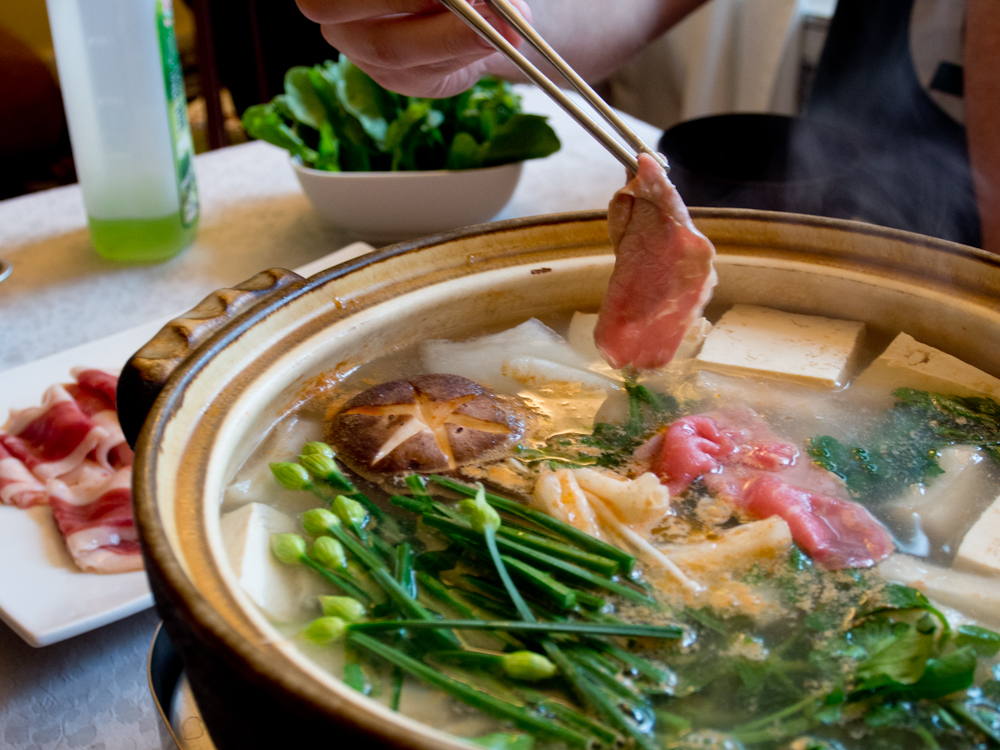 When my dad was growing up in Southeast China, hot pot (he calls it 打邊爐) was a simple preparation only ever eaten during the winter. On rare occasions, a brazier was used to simmer a communal pot of food at the dinner table. He considered it a luxury to enjoy any source of heat in the house, and a meal that wasn't cold by the time he was eating it.
We have air conditioning now. Well, not my dad. He still kicks it old school, and for that, he has a lower electricity bill. But we have air conditioning. Even though that means we can have hot pot any time of the year, I still think of it as a winter meal. The colder it is outside, the better it gets.
While there are regional variations (steamboat, shabu shabu, suki, fondue chinoise…), any ingredient you would want to cook in liquid is suitable for this kind of meal. Because of its simplicity, the ingredients must be of immaculate quality, fresh enough to eat raw (except you wouldn't eat something like pork raw learn something new every day). The number of ingredients depends on the number of guests. For every guest eating at the table, I prepare about 1 lb (450 g) of food: an animal protein, one leafy green, and one other vegetarian ingredient. Modify amounts if needed, but avoid reducing variety.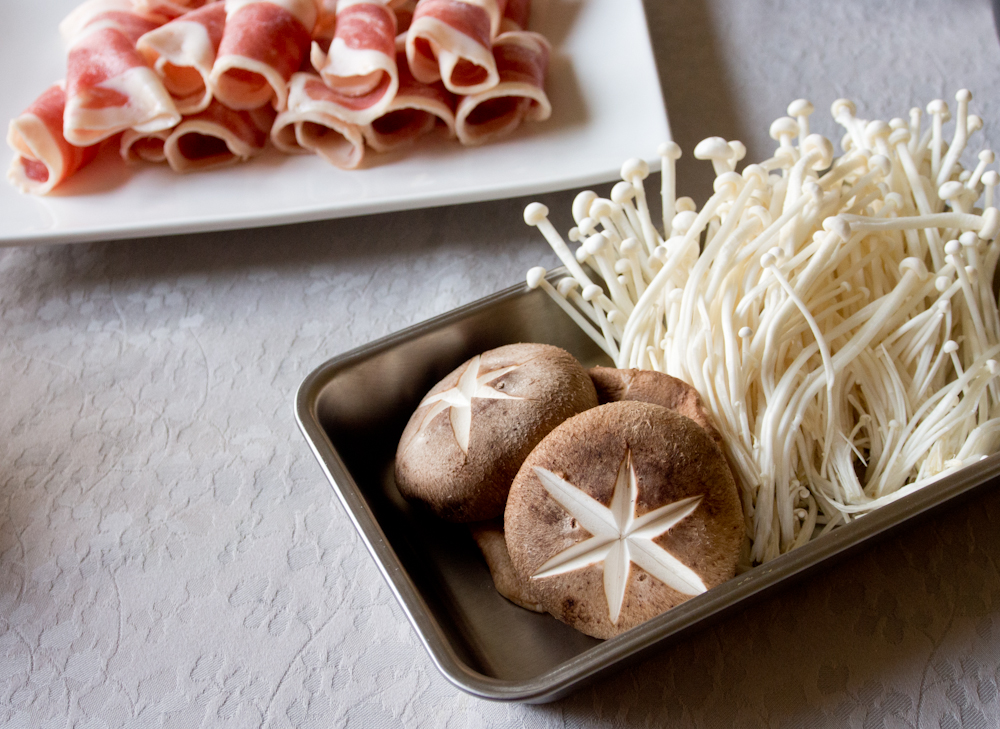 Hot Pot for Four
water, to fill the pot
a generous splash of mirin or any rice wine
1 knob ginger, quartered lengthwise
¼ lb (113 g) rib eye or any well marbled tender cut of beef, sliced thinly against the grain
¼ lb (113 g) duck breast, sliced thinly against the grain
¼ lb (113 g) salmon loin, ¼ in (1 cm) sliced against the grain
¼ lb (113 g) large prawns, shelled and deveined
¼ lb (113 g) watercress
¼ lb (113 g) flowering garlic chives, 3 in (7 cm) segments
¼ lb (113 g) pea shoots
¼ lb (113 g) chrysanthemum greens/crown daisy, thick stems removed
1 pack enoki mushrooms, separated into skinny clumps
4 shiitake mushroom caps
½ lb (225 g) block of tofu, ¾ in (2 cm) slices
¼ lb (113 g) wintermelon, ¾ in (2 cm) slices
1 lb (450 g) udon noodles, cooked
shacha sauce (沙茶醬)
soy sauce
sriracha
hot sauce
farm fresh raw eggs or pasteurized eggs
scallions, 3 in (7 cm) strips, ⅛ in (3 mm) wide
sesame oil
fresh raw garlic, minced, in warm peanut oil
portable tabletop burner
a wide and shallow pot, about 4 in (10 cm) tall, 11 in (28 cm) wide
large slotted spoon
Sometimes, Chinese, Korean, or Japanese groceries (maybe others, but I wouldn't know) sell raw meats sliced super thin just for hot pot. Not thin like corrugated cardboard. I mean thin like sliced prosciutto. Chances are, if the place sells hot pot equipment, they probably sell this preparation of meat. If you can't find it, you can always cut the meat against the grain as thinly as possible. Keeping the meat cold and using a very sharp knife helps.
While preparing the ingredients, set the pot on the stove with water, mirin, and ginger. Bring this to a boil and let it simmer for a few minutes. As the meal progresses, the water will develop into a brightly flavored broth. The mirin and ginger prevents the broth from becoming too gamey after cooking all that meat and fish. The ginger isn't really for eating, but it should stay in the pot for the whole meal.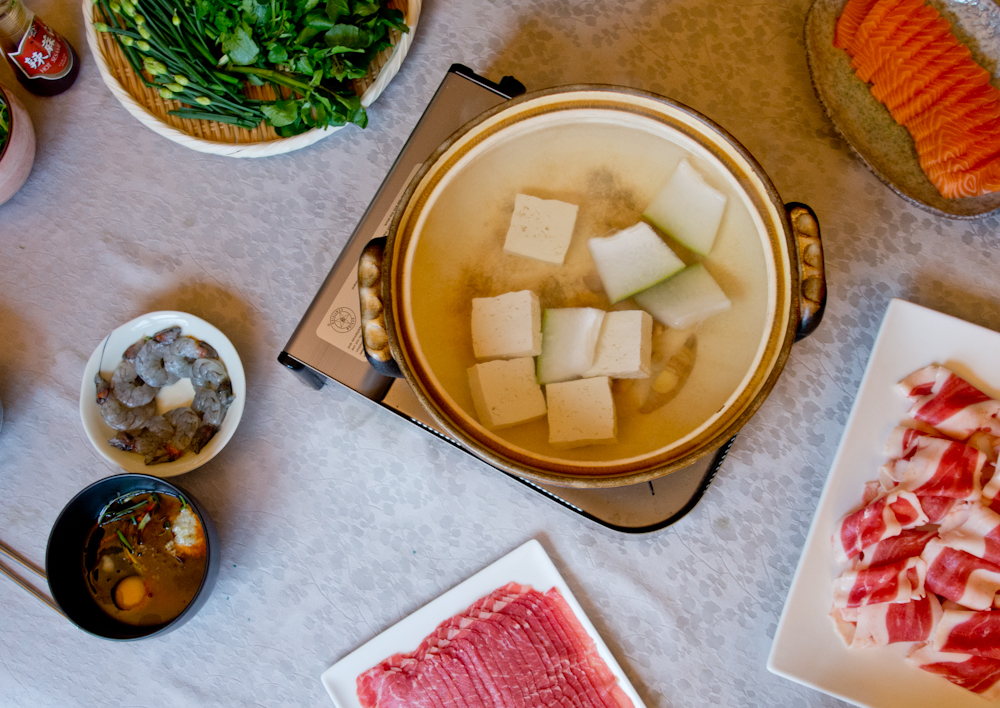 Place the portable burner in the middle of the table within arm's reach of each guest. Arrange the ingredients around and bring out the condiments. The meal begins when everyone is at the table and the simmering pot is placed on top of the burner. Each person can use heat-proof chopsticks to cook whatever they want in the pot to the desired doneness and dip the cooked ingredients in a mixture of any condiments in their own bowl. I'm particularly fond of shacha sauce with raw egg, soy sauce, garlic and scallions.
I recommend placing stuff like the tofu or wintermelon in the pot right at the beginning so they have time to cook and absorb the flavor of the broth throughout the whole meal. Due to the size of wintermelon, they're only ever sold in 2-3 lb (1-1.5 kg) slices. Even though a small fraction of that is needed for this meal, I usually cook all of it anyway and leave the extra for later.
The animal proteins should be done after swishing around in the broth for a few seconds. Don't worry if you lose sight of an ingredient, that's what the slotted spoon is for. Keep a kettle of hot water at the ready to refill the pot when the water level drops more than 1.5 in (4 cm) from the top of the pot.
If there's too much food, those ingredients can be cooked off at the end and saved as leftovers. Don't save the garlic in oil. Once that's done, have everyone enjoy the tofu and wintermelon while you strain off the broth in a fine mesh sieve, with cheesecloth, or even a paper towel in a colander. Return the liquid to the pot, bring it to a boil, and skim off any excess fat. Salt to taste and turn off the heat. Drop in the noodles and enjoy.